Notice!
This article contains TENTATIVE information, meaning it is subject to change!
JOJOLANDS
Part
9
Chapters
N/A
First Chapter
"TBA"
Written by
Hirohiko Araki
Chronological Order
Previous
Part 8 : JoJolion Part 9 of JoJo's Bizarre Adventure, tentatively subtitled JOJOLANDS, is preceded by JoJolion. It is probable the third base contribution within the SBR continuity, that takes identify in a parallel global from the first gear six parts, and the final part in the JoJo's Bizarre Adventure series. depart 9 is the upcoming most holocene separate of the JoJo's Bizarre Adventure series that will begin serialization in monthly Ultra Jump after Hirohiko Araki 's break dance . As it is completely unreleased, there is no official manga release for Part 9 in English .
official description
TBA
summary
TBA
Chapters
| Chapter Name | Volume Name | Volume Cover |
| --- | --- | --- |
| TBA | Volume 1 | File:Volume 132.jpg |
Chapters not yet in Tankoban format
cast
Characters
TBA
Stands
TBA
Media
TBA
Development
A potential Part 9 has been discussed by Araki multiple times throughout the span of JoJo's Bizarre Adventure.

In an interview during the serialization of Part 7, Araki mentioned that he had the general outlines done for Parts 7, 8, and 9.[1]
In another interview, Araki stated that he wants to return to writing about the town of Morioh in Parts 8 and 9.[2]

How accurate this is, as in, whether or not Morioh will appear in Part 9, is yet to be seen.

During Lucca Con 2019, a fan asked Araki if he could make a new part in Italy, to which he replied that he would think about it.[3]
In an interview with Rurubu Morioh that came with JoJolion Volume 12, Araki said he wanted to write a story in a location with a "lonely feel" to it, like the Scottish Highlands.[4]

As of December 2021, Part 9 is currently being worked on.[5]
As of June 2022, Part 9 is being planned.[6]
On July 3rd, 2022, a video of Araki was released that showed a sketch of an unknown character in the background. It has been edited to show this character in some detail. It is unknown if this is a future Part 9 character or not.

The new character bears a possible resemblance to "Fumi" (Joseph Joestar,) from the end of the previous part.
triviality
"JOJOLANDS" is the tentative title for Part 9, meaning it is subject to change. If it does receive a name change upon release, JoJolion will be the only part without a change in title in the main series.
As it is currently unreleased, this makes the break between Parts 8 and 9 the longest wait between parts so far, being more than one year (13 months) in total. The previous record was between Parts 6 and 7 which was 9 months long.
continuity
TBA
gallery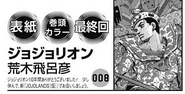 JOJOLANDS announcement in Ultra Jump
References
Navigation