"When the time arrives, I will already be unmasked." ―RiddlerThis article is about upcoming content and is subject to change. You can help The Batman Universe Wiki by adding new information when it becomes available.
Riddler: Year One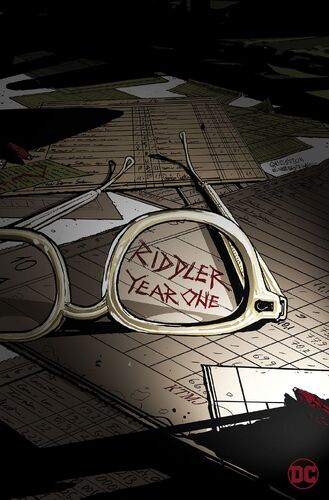 Author
Paul Dano
Illustrator
Stevan Subic
Publisher
DC Comics (under DC Black Label)
Published on
October 2022 – August 2023
Type
Comic Book
Riddler: Year One is an approaching six-part comic record limited series based on the DC Comics supervillain of the same name. It will be the first comic book installment of The Batman Universe and will serve as a prequel to the film 's events, focusing on Edward Nashton 's first gear class under the Riddler character. The comic will be written by Paul Dano, who portrayed the character in The Batman. The series will be illustrated by Stevan Subic, and is set to be published bimonthly under the DC Black Label imprint from October 2022 to August 2023 .
publisher Summary
[
]
For many film and comic book fans, Paul Dano's portrayal of The Riddler in Matt Reeves' The Batman was arguably one of the most chilling and terrifying incarnations ever seen in a Batman film. This October, fans will have the opportunity to learn more about The Riddler's origins in Riddler: Year One, a six-issue bimonthly DC Black Label series, written by The Batman actor Paul Dano, with art by acclaimed European illustrator Stevan Subic, making his DC debut.
This series explores the background of how accountant Edward Nashton went from a simple Gotham City nobody to becoming Batman's nemesis, setting them on a collision course in the blockbuster feature film. [ 1 ]
Issues
[
]
Riddler: Year One #1 – October 2022
Riddler: Year One #2 – December 2022
Riddler: Year One #3 – February 2023
Riddler: Year One #4 – April 2023
Riddler: Year One #5 – June 2023
Riddler: Year One #6 – August 2023
Characters
[
]
Appearances
[
]
Locations
[
]
Items
[
]
Species
[
]
Development
[
]
On March 18, 2022, the viral market locate Rataalada.com revealed that Paul Dano, who portrayed Edward Nashton/Riddler in The Batman, was signed on to write a six-part prequel amusing bible miniseries titled Riddler: Year One, to be published by DC Comics under their adult-oriented Black Label imprint, which was jointly confirmed by the publisher and Matt Reeves soon thereafter. [ 2 ] The amusing record will be illustrated by newcomer DC Comics artist Stevan Subic and is scheduled to be released semimonthly. [ 3 ]
triviality
[
]
Riddler: Year One is the first project in The Batman Universe to be focused on a character other than Batman himself, preceding the upcoming television series The Penguin.
Behind the scenes
[
]
Riddler: Year One is the first comic set in The Batman Universe.
References
[
]
[
]